Please note that this information is no longer up to date. The content of this site has moved to a new domain DIYMacServer.com which is kept up to date. Apologies for the inconvienince.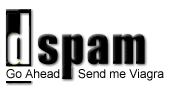 Here is my first instalment of how to install DSPAM on OS X and using the installation of Postfix, Courier IMAP and MySQL described earlier as a basis.
Please note that these instructions are not yet full-proof and tested by others than myself. Please don not try to do this yourself if your not very comfortable using the Terminal, wading through log-files and solving complex issues.
I've chosen to incorporate DSPAM as a content filter for Postfix. This means that email comes into Postfix, passes through DSPAM and gets reinserted into Postfix for delivery into the users mailbox. (In the near future I'm looking at solutions like maildrop for delivery into the maildir.)
DSPAM is a very good spamfilter and is easy to use and train by it's users. Training can be made very simple, I've chosen to use a folder structure in which people can drop their missed spam (false negative) into the Junk folder which gets processed overnight to train DSPAM. It's also possible to use forwarding the spam email to a local address to train DSPAM.
My Todo list for the DSPAM setup, in no particular order:
Using maildrop for delivery and by doing this, deliver SPAM into a quarantine folder at the users mailbox.
Learn more about the setup of users and groups in DSPAM to be able use each others training data
Note: If you have problems getting it to work please post your errors or problems on the forum. This is a better way to capture the knowledge spread and makes it accessible to others. Other remarks and opinions can be added to this page as comments.